Most companies are faced with the task of hiring new employees at one time or another. When looking for new hires, companies seek individuals who are driven, flexible, and top performers. However, even with the most qualified employee, many companies struggle with helping new hires integrate seamlessly into their job role, often leading to a decrease in productivity. For this reason, we're going to provide you with an insider's guide to effectively onboarding new employees in 2019.
In the height of the digital age, it's important for managers and HR to be able to effectively communicate their needs to an employee as well as be willing to provide them with what they will need for their best success. Here are some things to consider:
Develop a Strong Employer Brand
Your employer brand encompasses the company's culture, values, mission, and personality. These are all things that potential employees look for when deciding where to work. Consequently, expressing your employer's brand is a key part of the employee value proposition and plays a large role in attracting and engaging new employees.
A positive employer brand communicates that your company is a great place for individuals to work. The first impression of your company and your brand will affect the recruitment process, retention, and engagement of employees.
Companies need to work to ensure they're building a strong, positive employer brand. This is especially important as more companies are increasing their presence online to attract new hires. If your company has built a bad reputation, or you haven't put in the time to effectively communicate your brand, then potential employees will easily move on to the next company of interest.
In fact, 84% of employees would consider quitting their job to take an offer from a company with a better reputation.
Focus on the Employee Experience
Many companies' first instincts are to focus on the customer's experience, and while that is important, understanding your employees' needs is equally so.
If you expect to retain employees, and for them to perform exceptionally, you need to cultivate a positive employee experience. You see, employees won't stick around if they don't feel important to the company, and they won't be engaged for long if the work experience isn't pleasant and seamless.
Additionally, focusing on employee experience is one of the best ways to gain a competitive advantage as you can attract top performers. If your goal is to employ and retain new hires, then showing employees that you care about them, their growth, and creating a positive work environment is the way to go. For a more in-depth look at happiness in the workplace, visit our blog "How to Strengthen the Employee Bond."
To foster a positive employee experience, companies should commit to keeping an open line of communication by providing feedback on job performance, conducting follow-ups, and holding group meetings where employees can also get a chance to ask questions or pose ideas.
Remember, companies that focus on creating room for growth within their organization, create an atmosphere that encourages employees to remain engaged and have a sense of importance to the team.
Don't Underestimate the Power of Praise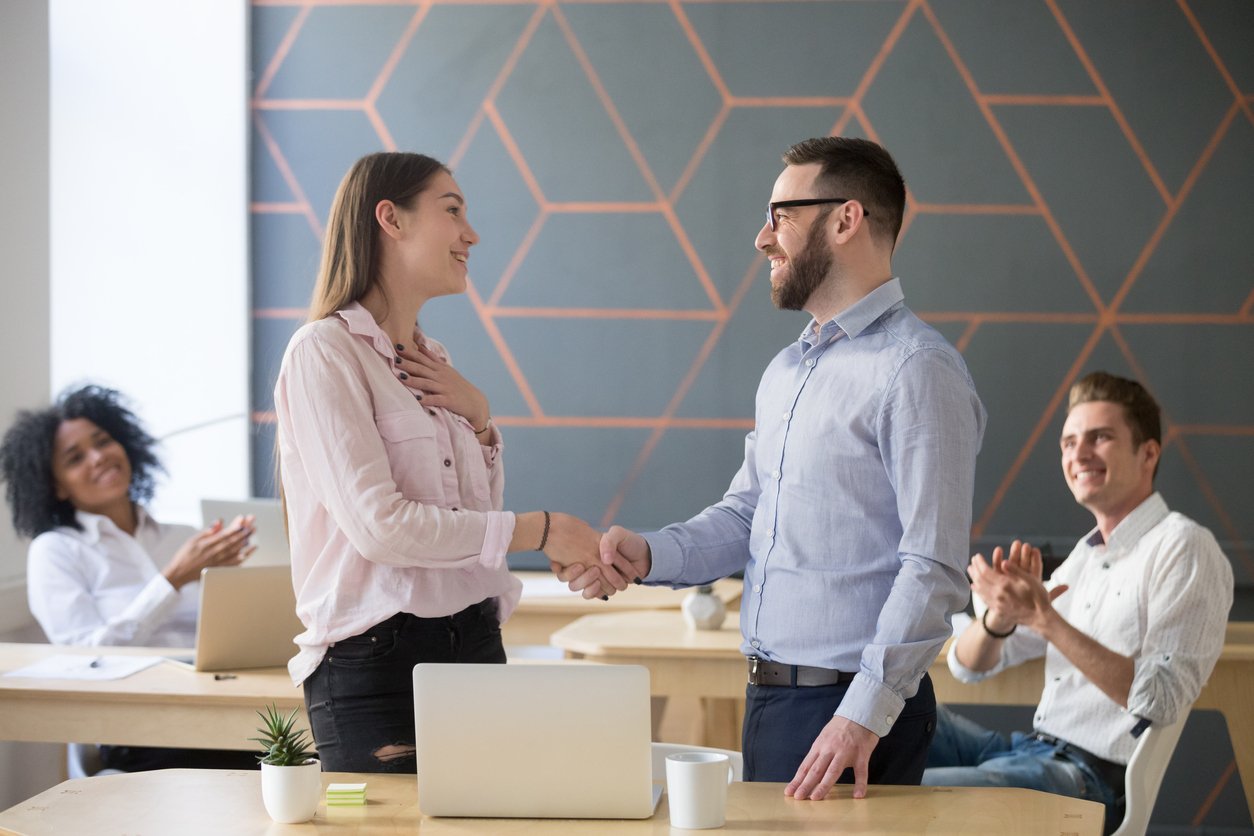 Employees do a lot to help keep the company running, and that's no fun without a little recognition along the way. It's important for companies to keep the team motivated and, ultimately, make them feel good to perform the job. This is one of the best ways to ensure you're developing loyal hires that are willing to grow with the company.
Of course, this does not mean that you need to praise them for every task that they do! However, if you find an employee doing something exceptional, don't be afraid to reward them with a little praise. This makes the employee feel good, have a sense of worth, and to continue to excel in their role.
Simple appreciation goes a long way in the workplace. Just by giving praise when it's due, employees will value the company even more and you'll be on your way to building a reputation that reinforces your desire to see your employees thrive in their role.
Promote Work-Life Balance through Flexible Schedules
Every company is different; however, when it's possible, companies should focus on providing flexible work schedules for employees. 41% of companies experience high turnover due to work-life imbalance and 36% of companies have experienced poor productivity for the same reason.
Employees have a life outside of work that is just as important. In 2019, employees are focused more on achieving a healthy work-life balance, and companies should be prioritizing the best they can to accommodate this need as this increases the employee experience. When employees can meet their needs outside of work, they are more likely to be satisfied, thus improving their performance while at work.
Additionally, when companies do what's in their power to provide flexible schedules, employees see that the company cares about their well-being and they are more likely to be a dedicated employee willing to go above and beyond for the company. Even if your company isn't in a position to offer flexible work schedules, there are still things that can be done such as offering flexible lunchtimes.
As long as you are diligently working to promote a work-life balance for employees, you'll be on your way to developing long-standing employees who will easily integrate into work processes.
How to Better Streamline New Hire Paperwork and Training
One of the best advancements to come with moving into the digital age is that everything is simpler, quicker, and more efficient. It's good to give employees paperwork physically; however, also having that information readily available online will save time and create a much smoother process as you continue to get a new hire on board.
This is why automation will become your companies best friend moving forward. It alleviates the chance of human error and makes the onboarding process move smoothly.
Companies want to ensure new hires receive all of their materials before their first work day. This means sending any company welcome materials along with information about scheduling. In addition, it may be beneficial to have a manager reach out to the new hire as a way to welcome them. This is an excellent way to help new hires get acclimated with what's expected of them.
Training also plays an integral role in a successful onboarding process. Sometimes new hires feel discouraged in the beginning because they haven't gotten the hang of their job duties. With proper training beforehand, new hires can integrate more easily with the other employees.
So with the growth of technology, companies should consider offering on-demand training that new hires can access directly from their mobile device. New employees can have intuitive training experience with the help of slides and videos. The more information that employees have access to, the better prepared they are for the job.
Interested in seeing these tools in action? Click on the demos below:
Many companies haven't grasped how to effectively onboard new hires, which is why they don't see much success. But proper onboarding can improve employee retention by 82%. If companies want to attract top performers that will turn into dedicated employees, then prioritizing the onboarding process is going to be essential.
If you are interested in learning more about iSolved or our Onboarding and Learning Management (LMS) modules, please feel free to schedule time with us. We're eager to show you how to make onboarding new employees a seamless process.